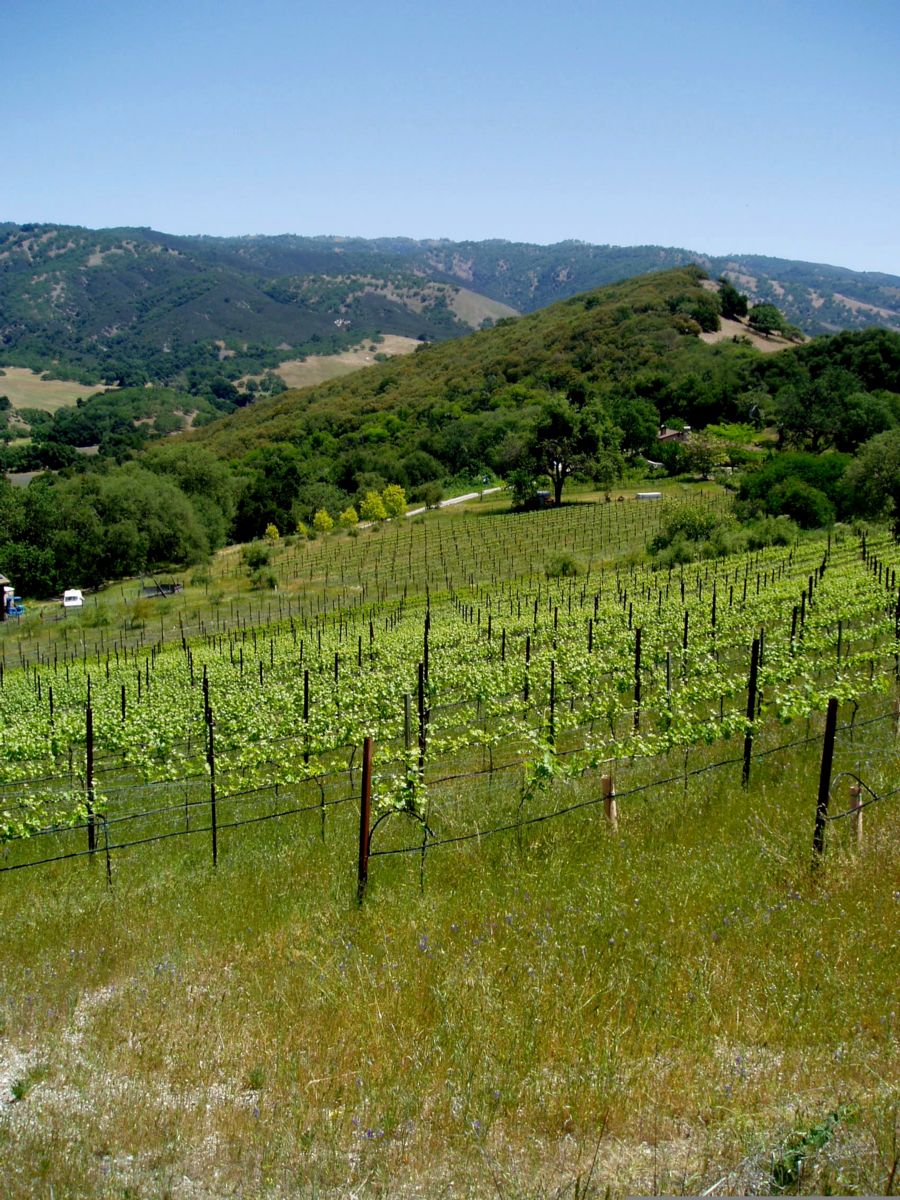 CM RANCH - CARMEL VALLEY
This is our home ranch located about 25 miles up Carmel Valley above the intersection of Carmel Valley road and Tassajara Road at 1500 feet elevation. The vineyards placement in a gently sloped bowl shaped bench on the northern side of a ridge creates a unique terroir. This orientation means that the vines are late to bud out in spring and thus ripen later (October and November) under cooler conditions. The soil at this site is a rocky shale based loam(Santa Lucia Shaley Loam) known locally as "chalk rock" although it is not limestone. It has excellent drainage but low macronutrient levels which forces the vines to root deeply. Soil depths range from zero to four feet. Vines are all trained to a vertical shoot positioned trellis with a spacing of 4 feet between vines and 8 feet between rows. Crop loads average about 3 tons per acre for white varieties and 2.5 tons per acre for reds. There are approximately 2 acres of reds, primarily Syrah with a small amount of Grenache and recently planted Montepulciano along with 1 acre of whites mainly Roussanne with some Vermentino and Sauvignon Blanc Musque. No pesticides or herbicides other than elemental sulfur powder are used. All fruit is hand harvested usually in two separate passes each for both whites and reds.














CEDAR LANE VINEYARD - ARROYO SECO
This is a 60 acre vineyard located in the Arroyo Seco AVA that we own with 2 partners. This vineyard is farmed by Michael Griva, a fourth generation neighboring grower, ?in consultation with us. The soil is the low nutrient sandy cobblestone type(Arroyo Seco Sandy Loam) typical of this region. Michael Griva refers to farming here as "hydroponics". The climate during the growing season typically involves foggy mornings, sunny middays and cool windy afternoons. Peak temperatures rarely linger for more than an hour or two before the wind off of Monterey Bay brings warm conditions to a halt. This strong marine influence creates a long but cool growing season. We source Albarino, Chardonnay, Grenache, Pinot Noir, Syrah and Vermentino from this vineyard.








MISSION RANCH VINEYARD - ARROYO SECO
This vineyard is our largest at 245 vine acres. It is located on the edge of the bench where the Santa Lucia Highlands AVA is located. Geographically, geologically and climatically they are the same. The soils here are deeper Arroyo Seco Sandy Loam with less rock than at Cedar Lane making this a prime spot for bigger bodied Pinot Noir. We source Albarino, Chardonnay and Pinot Noir from this vineyard.