Winemaking
Winemaker Mark Chesebro and his son Will approach each variety differently, with great respect to the terroir: this is what makes each Chesebro wine unique.


CM RANCH ESTATE WINES
The CM Ranch is the Chesebro estate vineyard, located at 1500 feet in the
east end of the Carmel Valley.


White Wines
Roussanne, Vermentino and Sauvignon Blanc Musque are picked based on flavor and acidity levels, typically in several passes during October. Usually picked together, each variety is whole cluster pressed together. Otherwise, they are carefully processed individually. Fermentation is often with native yeasts and aging takes place in older neutral French oak barrels, with the nascent wine being aged on the lees for 8 to 12 months to enhance the texture before racking in preparation for bottling in August prior to harvest. The goal is to finesse each wine to its optimal outcome.
Red Wines
Red varieties are picked based on physiological ripeness as judged by skin and seed ripeness. This usually occurs during late October to late November. Varieties destined for blending are fermented together if picked together. Fermentation takes place in 1.5-ton open top fermenters, followed by aging in French oak barrels. The wines are bottled without filtration 16 to 18 months after harvest, depending on the vintage. Chesebro's approach is to bottle early enough to capture freshness of fruit character while enjoying manageable tannins. The reds from the CM vineyard will always have a full tannic structure capable of long-term aging, but should also be accessible at a fairly young age, e.g., within 3 years of bottling.
CEDAR LANE AND MISSION VINEYARD WINES
Cedar Lane Vineyard is 60-acre vineyard in the Arroyo Seco appellation farmed by Mark Chesebro and his vineyard partners. Mission is a 245 acre vineyard located several miles away in the same AVA but with very different soils and aspect.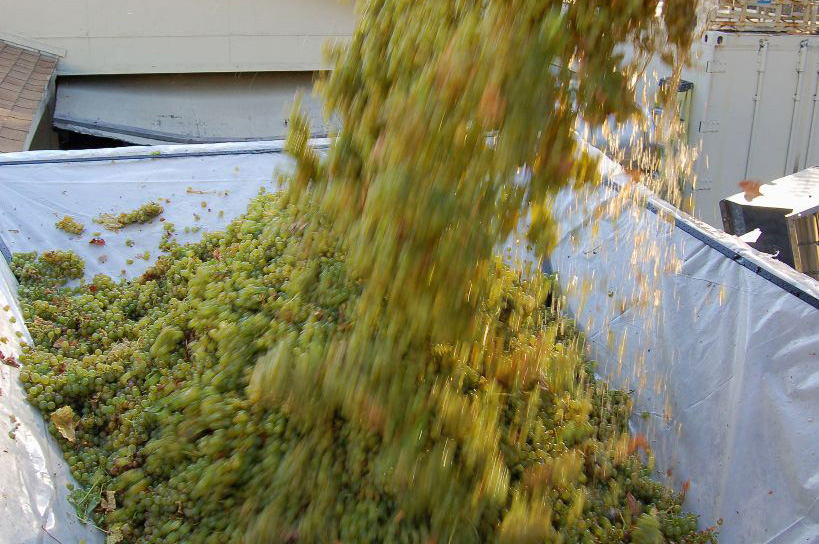 White Wines
Sauvignon Blanc Musque is picked usually in September, in two passes. The first pick is early, to emphasize fresh citrus and herbal characters, and the later picking aims to bring out peach and melon aromas, along with a fuller body. Vermentino is harvested a month after the Sauvignon Blanc, based on falling acid levels. Winemaking methodologies are similar to those used in the production of CM Ranch whites, but here, all fermentation is done in stainless steel, using both tanks and barrels.
Red Wines
Pinot Noir harvest begins in late September or early October. Wines are processed with a more gentle hand as befits this delicate variety. Bottling occurs the August following harvest, again to preserve the freshness and delicacy of the bouquet.
Syrah and Grenache Noir from Cedar Lane are usually picked in early to mid-November, based on the physiological ripeness. Winemaking utilizes open top fermenters and French oak barrel aging. Here, there is less concern with excess tannins, as the Cedar Lane fruit is naturally possessed of smoother, finer-grained tannins. Tasting these two varietals from both vineyards side by side will give you the opportunity to taste the true sense of place inherent in each wine.