Latest News

Chesebro Wines in The Somm Journal

Feb 16, 2016
Check out this great article in the latest Somm Journal about the Arroyo Seco AVA. It features our wines and a number of other wonderful Arroyo Seco producers both big and small.
http://digital.copcomm.com/i/637107-february-march-2016/78


90 point plus wines in Wine Enthusiast
Oct 3, 2016
We have just received word that our 2013 Las Arenas received a score of 90 points and the 2011 La Montagne Sauvage was rated at 93 points in the upcoming December issue of Wine Enthusiast magazine! We will have a link to the full reviews as soon as they are available.
Wines to be thankful with
Nov 25, 2015
SPECIAL HOLIDAY HOURS
OPEN WEDNESDAY NOVEMBER 25 1 PM TO 5 PM
CLOSED THANKSGIVING DAY NOVEMBER 26
Come and get your thanksgiving wines at our special opening the day before. We have a wide variety of wines that pair beautifully with the sweet and savory flavors of this holiday. Try our grenache rose'(mark's personal thanksgiving favorite), the versatile roussanne based piedras blancas or the spicy las arenas grenache blend. Special pricing for this holiday make it even better. Our trusty tasting room manager alyssa is joining her sister in portugal for the week so it will be chesebro family manning the bar. we wish you a great thanksgiving and hope to see you soon.
Santa Cruz Weekly Reviews Chesebro's 2011 Cedar Lane Pinot Noir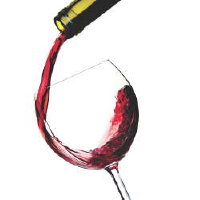 Feb 11, 2015
When some friends invited me and my husband to a dinner of "gourmet food," and mentioned that they had just brought back some foie gras from France, I decided to take along an earthy Chesebro 2011 Pinot Noir ($23) to pair with the special treat.
Six of us made short work of this Pinot, and the worthy wine (it won a silver at this year's San Francisco Chronicle Wine Competition) matched up well with the silky smooth pâté.
Made from grapes grown in Cedar Lane Vineyard in the Arroyo Seco AVA, its classic aroma of red fruit and earth, along with its velvety texture, make for a delicious palate-pleasing starter. The 2011 vintage has some lighter elements, such as cranberry and tangy pomegranate, so it pairs quite well with hors d'oeuvres.
An impressive main course of beef Wellington, mushroom bread pudding and sautéed spinach, followed by "very runny" French cheese—also brought back from France, were paired with a couple of other superb locally made wines.
We finished with St. John Comandari, a sweet and fruity dessert wine from Cyprus—and my favorite Greek dessert, galaktoboureko. (Pronounced galak-to-BOO-reko)/
Mark Chesebro, winemaker and grower, is producing some beautiful wines lately. You can try them all at his delightful tasting room in Carmel Valley Village. Open Thursday through Sunday, $10 gets you six different tastings—refundable with a $40 purchase.
19 East Carmel Valley Road, Suite D, Carmel Valley, 659-2125.
Chesebrowines.com